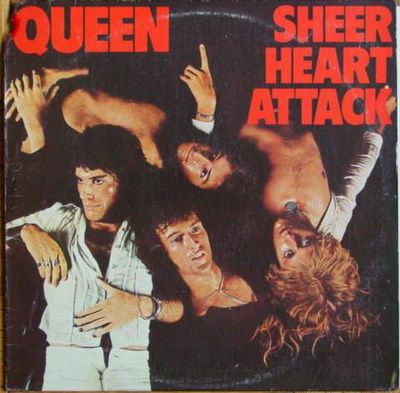 Queen's third album
Sheer Heart Attack
(LP Elektra 7E-1026) released in November or December of 1974...this is Queen's first masterwork and shows them coming into their own.. it was soon followed by
A Night at the Opera
which conquered the world..even the United States which did not know what to make of Queen- as evinced by the ridiculous contemporaneous
review
of
Sheer Heart Attack
in Rolling Stone comparing their use of background vocals to Uriah Heep (huh?) and claiming Queen failed to reach the heights of their first LP (come on it has
Killer Queen
!)- succumbed:
Sheer Heart Attack
made it to number 12 on the US charts...
The hits were
Killer Queen
and
Now I'm Here
.. the album is the first trademark Queen classic lp (the word eclectic comes to mind) with ballads, rockers bordering on heavy metal (
Stone Cold Crazy
subsequently covered to great fanfare by Metallica), even campy country rock (
Bring Back that Leroy Brown
with May on ukelele-banjo) and vocal showcases (my favorite song on the album
In the Lap of the Gods
directly pointing in the direction of
Bohemian Rhapsody
)...This album tones down slightly the fairy tale imagery so prevalent in the first two records although
Lily of the Valley
lyrically ties to
Seven Seas of Rhye
from the first album..
Now I'm Here
written by Brian May pays tribute to his and everyone's hero Chuck Berry!.. the rocked up ending includes Berry like guitar and Freddie yelling "Go Go Go Little Queenie wooohhh" (Chuck Berry wrote
Little Queenie
)...
The engraving of "10-17-74" is on the runoff grooves of this copy of the LP and a shoddy black and white poster with lyrics was included..in addition, per the picture, a dog apparently chewed off one of the corners!..
most people don't realize that Brian May wrote and sang many Queen songs: four written on this one and a cowrite on the heavy
Stone Cold Crazy
which sounds like a May song but is the first song the four band members wrote together, and that drummer Roger Taylor usually contributed a song or two as did bassist John Deacon...
Killer Queen
which features one of Freddie Mercury's superb lyrics: "She keeps Moet et Chandon In her pretty cabinet 'Let them eat cake' she says Just like Marie Antoinette"..Great stuff which does not often get the due it deserves!...